Seville, Spain's Plaza de Toros de la Real Maestranza, is one of the world's most famous bullrings. It's also one of the country's biggest, with a capacity of over 14,000. Starting in the middle of the 1800s, building the arena took over 120 years. Nevertheless, the white and gold tones, elaborate audience box, and delicate stucco mouldings of this baroque-style edifice on the banks of the Guadalquivir River make it a beautiful architectural marvel in the modern day.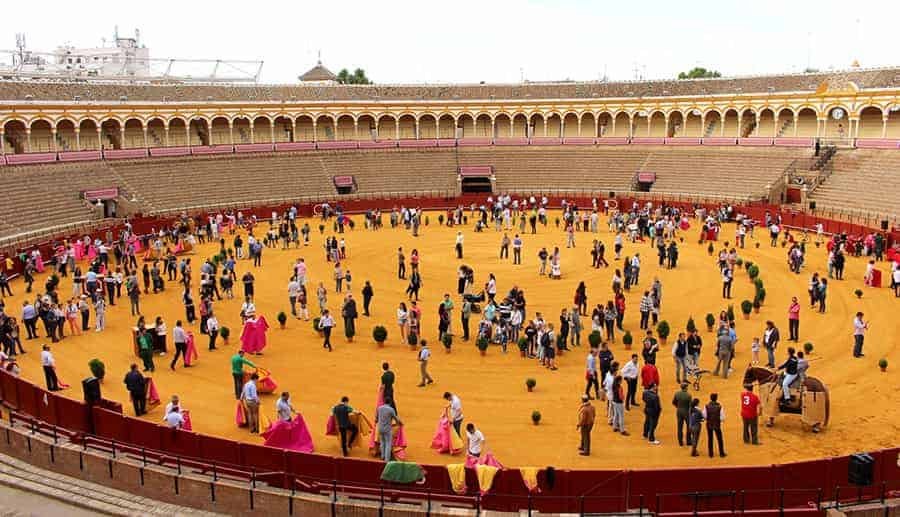 For those interested in the history and tradition of bullfighting in Seville, the Plaza de Toros offers guided tours of the bullfighting museum (Museo Taurino) inside the arena. For just 7 euros, visitors can learn about the history of bullfighting in the city, the basics of the sport, and the famous matadors who have performed in this historic arena.
Posters, portraits, photographs, and even matador and bullfighter costumes fill the museum's four exhibition halls. However, the museum's crown jewel is the hand-painted robe that Picasso wore.
Spain is home to a storied bullfighting tradition, and the Plaza de Toros de la Real Maestranza plays an integral role in that history. Anyone even remotely interested in bullfighting owes it to themselves to visit the arena, as it has hosted some of the sport's most legendary figures. As a result, this place has a lot of history and culture to learn about and appreciate and some stunning buildings.
The Plaza de Toros is a must-see for anybody interested in learning about Seville's rich heritage. You may learn about the origins of bullfighting in the city, the rules of the sport, and the legends of the matadors who have graced this stage through the museum and exhibitions housed in the arena's exquisite architecture. The museum also gives visitors an insight into the city's significant cultural past. If you want to learn more about the Spanish bullfighting culture and history, a trip to the Plaza de Toros de la Real Maestranza is a great place to start.
Address: Paseo de Cristóbal Colón, 12 41001 Seville
Opening hours: From May to October - from 9:30 to 20:00. From November to April - from 9:30 to 19:00
---
Check tours & tickets related to Plaza de Toros de la Real Maestranza: