One of Seville's most well-known and instantly recognized landmarks is the Giralda, commonly referred to as the Giralda Tower. With a height of almost 80 meters, this imposing bell tower has a colourful past that dates back to the 12th century, when it was first built as a minaret for a massive Muslim mosque.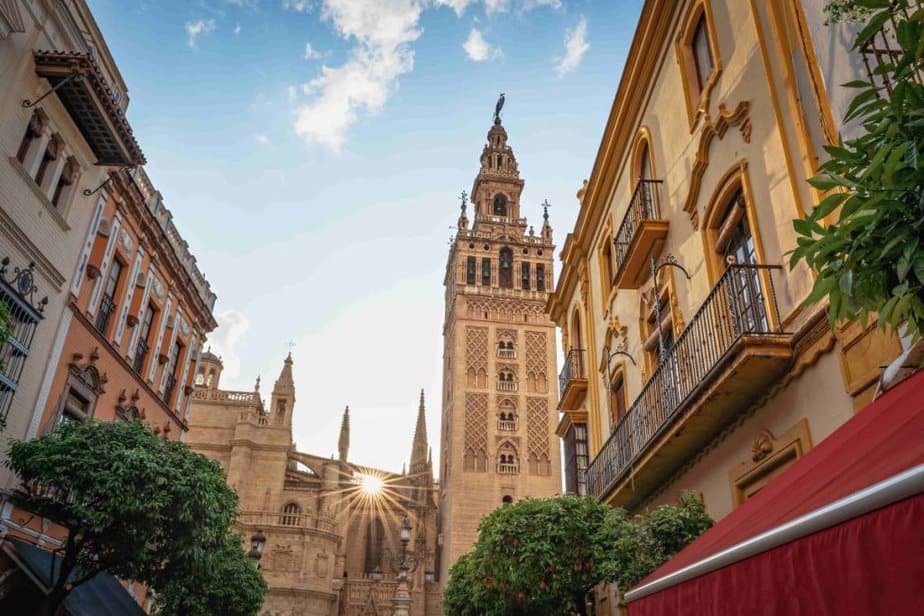 Over time, the mosque was destroyed, but the minaret was excellently preserved and converted into a Catholic bell tower. The Giralda now serves as an observation deck, offering breathtaking views of Seville and the surrounding area. Visitors can easily reach the top of the building by climbing the broad and gentle ramp, initially designed so that a rider on horseback could ascend the tower.
The tower's name, Giralda, originated in the 16th century when a 4-meter-high figure of an angel, known as "El Giraldillo", was installed on the tower's roof. The angel would rotate during the wind, giving the building its name. In Spanish, "to rotate" is "girar", hence Giralda. Local legend states that if Giraldillo's hand points towards the Guadalquivir River, it signifies upcoming rain.
Any visitor to Seville should see the Giralda since it not only gives breathtaking views of the city but also offers a window into the dynamic Spanish city's rich history and culture.
The Giralda is considered one of Spain's most important examples of Moorish architecture. Its design is a harmonious blend of Islamic and Christian elements, reflecting the rich cultural heritage of Seville. The tower's brickwork and tilework are particularly noteworthy as they showcase the intricate craftsmanship of the period.
The tower is significant historically and architecturally, but Sevillians also have a particular place in their hearts for it. It has long served as the city's emblem and is essential to its cultural character.
The lovely grounds that encircle Giralda give visitors a tranquil and calm setting to reflect on the magnificence and beauty of the tower. Giralda welcomes tourists annually and provides audio tours in several languages. A genuine learning experience is created through the audio guide, which gives guests a lot of knowledge about the tower's history and design.
Address: Calle Alemanes, s/n, Seville
Opening hours: July - August from 9:30 to 16:00. All year round from Monday to Saturday from 11:00 to 17:00. Sunday - 14.30 to 18.00
Giralda tickets cost €8.